Paper Space, 14 May – 18 June, 2020
Cecilia Hillström Gallery, Stockholm
Exhibition
Artlover #43, March 2020, Stockholm
Article
Interview with David Castenfors in the magazine Artlover.
Mo(der)nism, 2019
Åkeshov, Stockholm
Commission
A site specific permanent installation in public space made of painted stainless steel. Commissioned by Stockholm Konst.
Elsewhere, 2019
Cecilia Hillström Gallery, Stockholm
Exhibition
Untitled (Cloud), 2016
Sculpture
Paper on cardboard
50 x 40 x 30 cm
Untitled (Mountain), 2016
Sculpture
Paper on Cardboard
18 x 30 x 20 cm
Brooklyn Commons: Fred Tomaselli and Carl Boutard, 2016
ISCP, East Williamsburg, NY
Talk
Brooklyn Commons, an ongoing discussion series at ISCP, puts artists in conversation who have not shared a dialogue in the past and focuses on cultural practitioners living and working in Brooklyn, both long- and short-term. On June 7th, Fred Tomaselli and Carl Boutard discussed their work, nature, site-specificity, adaptation, and making ephemeral materials permanent.
Lower East Side, New York
Exhibition
Coconut milk cardboard boxes reconfigured into modules and covered with seamless backdrop paper discarded by photographers. Titled Life is Elsewhere, this exhibition is accompanied by a printed dialogue between the artist and Joseph Scheier-Dolberg, Assistant Curator at the Asian Art Department of the Metropolitan Museum of Art.
East Williamsburg, New York
Residency
With support from The Swedish Arts Grants Committee
River Walk, 2015
Karlstad, Sweden
Commission
A site specific permanent installation in public space consisting of enlarged fragments of nature. In themselves insignificant these minuscule objects were found and carefully chosen by the artist during strolls along the adjacent Klarälven river. One of the bronze sculptures is situated 25 feet up in an elm tree. It was modelled with maple trees cut down while renovating the site. Comissioned by the Municipality of Karlstad, Sweden
Kugelbaum, 2014
Stångby, Lund
Commission
Into the Wild, 2013
Lund University, Sweden
Commission
The main model for this public art project was created with branches from a christmas tree – more specifically the part of the top branch that is removed to place the star in the tree. Three such branches were turned upside down and leaned against each other. The model was enlarged by the artist using two tonnes of clay before being moulded and cast in bronze. Commissioned by Public Art Agency, Sweden
Lebenslauf, 2014
Uppsala, Sweden
Commission
Four bronze for a permanent public art project curated by Lotta Mossum at Skandionkliniken. Parts of wood were joined end to end representing how periods of a persons life are joined in a chronological order but not always going in a straight progressive line. The sculptures come out of the ground, circumnavigate a tree and kiss one of the other artworks, a lamppost made by the artist David Svensson. Lebenslauf is German for Curriculum Vitae. Commissioned by Akademiska Hus Uppsala.
Larch in Linden, 2013
Heidenheim, Germany
Commission
Logs of massiv Larch were cut, fitted and hung in a Linden tree. A fullscale model of the Linden tree was built in a workshop to make sure the proportions would be accurate. Comissioned by the Bildhauersymposium Heidenheim in cooperation with Forst BW and Uwe Meier Holzbau.
Island, 2012
Sculpture
Bronze
34 x 9 x 10 in.
Unique
Epistle, 2012
Sculpture
Bronze
11 x 7 x 4 in.
Ed. 8 + 2 a.p.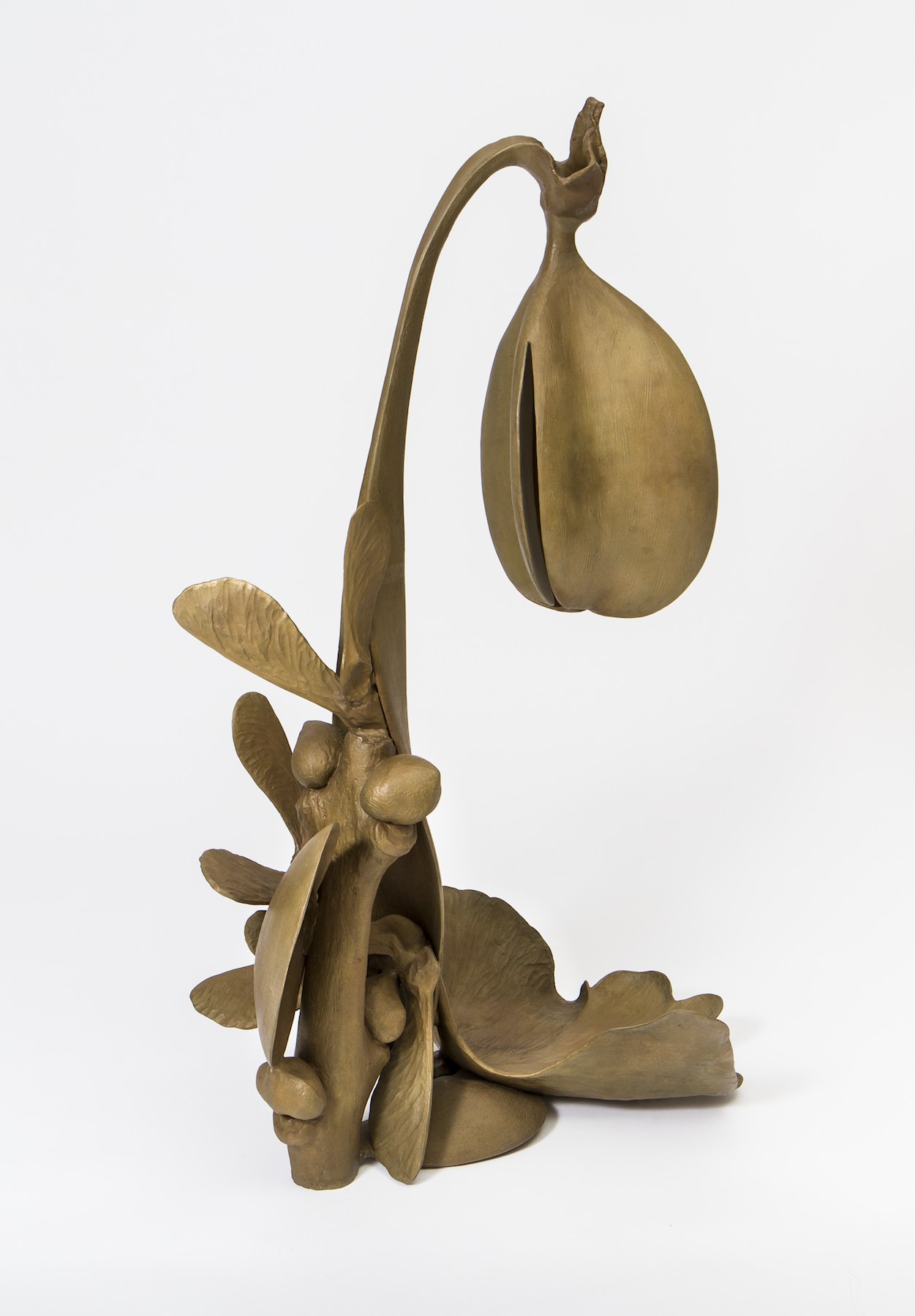 5-10-20: 1, 2010
Sculpture
Bronze
41 x 26 x 16 in.
Ed. 3 + 1 a.p.
Study no.2 for 5-10-20: 1, 2010
Drawing
Charcoal on paper
30 x 22 in.
Leafstudy, 2011
Drawing
Watercolour and pressed plants on paper
30 x 22 in.
Instrument, 2008
Sculpture
Wood and plywood
17 x 11 x 9 in.